Welcome to the website of the Willows Folk Club! The Willows meets every Wednesday at 7:45pm in the function room of Arundel Football Club, Mill Road, Arundel in West Sussex. The club is committed to offering fine music at the best value prices, and also prides itself on its welcoming atmosphere – we are always pleased to welcome friends both new and old.
The Willows offers a diverse range of music to appeal to a variety of tastes – traditional & contemporary folk, singer-songwriters, Celtic music, bluegrass, acoustic country, skiffle, acoustic blues & ragtime, even some acoustic, folky versions of 1950s & 1960s rock & pop! We run regular guest nights, and are also very proud of our fortnightly Come All Ye – Open Stage Nights, featuring some of the best local singers & musicians performing folk music in its broadest sense.
We look forward to welcoming you!
Guest Artists:
"The Willows has the vitality and atmosphere that first drew me to the folk clubs of the 1960s…It's at the top of my list of favourites." — Julie Felix
"The Willows Folk Club is something you should be proud of…the audience was one of the most attentive and appreciative I've played to"
— Keith Potger (of The Seekers)
"The Willows Folk Club is without doubt one of the best in the country. Brilliant crowd, great organisers, one of the youngest and most enthusiastic MCs we've ever seen, and a real sense of keeping acoustic music live and vibrant. As well as booking an imaginative guest lineup, the club's local talent is excellent and, most importantly of all, the Willows encourages and fosters young musicians."
— Nancy Kerr & James Fagan
"We travel to many, many folk clubs internationally and The Willows Folk Club at Arundel is one of the very best anywhere." — Mundy-Turner
Audience Members:
"…thank you for extending a warm welcome and the chance to sing when we visited your club…we thoroughly enjoyed ourselves and look forward to visiting you again"
"Fantastic night! Many thanks…your enthusiasm is magnificent!"
"Thank you so much for making [us] so welcome on Wednesday when we came to the club"
"Just a note to thank you all for giving us great entertainment on Weds at the Willows' famous Christmas Party night! …All the effort you made was much appreciated by us, and I can vouch the same for everyone sitting within earshot, who were saying the same thing"
"What a fabulous night we had last Wednesday…I`ve said it before and it does no harm to repeat it—–it`s always a pleasure to come to The Willows, probably the best club around"
LATEST NEWS:
Tuesday 14th January | Wednesday's Willows is ON! 🙂
On Sunday afternoon we popped in to Arundel Football Club to see how things were looking, and the flooding in the car park has gone down completely. We were able to enter the club with no problems, and take a look at how things were looking inside. The really good news is that no water got into the club building and so everything is dry and undamaged.
So, tomorrow night's Come All Ye – Open Stage Night will be taking place as scheduled! It will be great to kick off the club's 2014, and hope that we will have the pleasure of welcoming you all!
---
Tuesday 7th January | **IMPORTANT NOTICE!** Wednesday's Willows CANCELLED due to flooding
Happy New Year to all Willows' friends & supporters. Unfortunately the New Year has not started off well for many people, due to the adverse weather conditions.
Yesterday we received reports that Arundel Football Club's car park was underwater, with no way of entering the building. We spoke to Bob Marchant, the Football Club Chairman, last night and he stated that in his opinion it would be unlikely that the problem would have cleared up in time for Wednesday.
So, we have had to take the difficult decision to CANCEL Taxi Home's appearance at the Willows tomorrow night (8th January). We apologise for any disappointment caused.
We will be trying to reschedule Taxi Home's appearance for a date later in the year, and once we've done so we will announce this on this website.
We are intending to run as normal from the Come All Ye – Open Stage Night next Wednesday (15th January) – if this situation changes we will notify you as soon as possible. Please keep checking our website and Facebook page for the latest up-to-date information.
---
Friday 8th November | The Christmas Party – SOLD OUT!
Thanks to everyone who has purchased advance tickets for the Willows' Christmas Party on Wednesday 18th December. The popularity of the tickets has been overwhelming, and we can now announce that the Party is officially SOLD OUT!
We're looking forward to welcoming a capacity audience to one of the most fun-filled evenings of our programme. Thanks again to everyone who has purchased tickets and helped turn this into our fastest-selling advance ticket event ever!
---
Friday 8th November | September & October roundup!
We enjoyed some great guest nights at the Willows during September and October, providing us with a rich source of new YouTube videos to enjoy! So, let's get right to them!
Our first guests in September were the amazing band RATTLE ON THE STOVEPIPE, who played a mixture of English & American traditional music. Here are two videos that showcase different aspects of their performance:
BARBER, TAYLOR & REED have let up the Willows' stage many times over the years, with superb harmonies and great musicianship. Here are two videos from their performance, showcasing original songs "My Old Friend the Moon" and "Mojo Man and Josephine":
A former member of The Spinners, our good friend HUGHIE JONES always delivers a performance showcasing a classic folk sound, with his strong vocals and great guitar work. Here's a video from Hughie's performance, which accompanied the launch of his latest solo CD:
Last but definitely not least, the Willows has always been proud to present the multi-instrumental talents of THE CARRIVICK SISTERS, and their appearance at the end of October was no exception! Here are two videos from their barnstorming gig:
---
Monday 30th September | The Christmas Party – Advance Tickets on sale!
Click the poster to view a larger version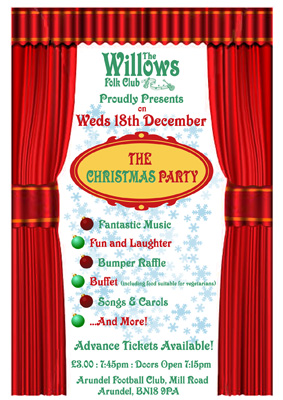 For the first time ever we've taken the decision to make ADVANCE TICKETS available for this year's Willows Christmas Party, which takes place on Wednesday 18th December. The Willows' Party is always a very popular and well-attended evening, and this year's Party promises the same great music, fun & food as we've enjoyed in previous years!
The tickets for the Party went on sale for the first time in the club last Wednesday (25th September), and in that short time we have already sold almost a third of all 120 tickets that are available! We love to share Christmas with as many of the Willows' friends and supporters as possible, so hope that we'll have the pleasure of welcoming you!
The tickets are £3.00 each, and will be available to buy in the club each Wednesday, and are also available by post. Please send us an e-mail for more details!
The doors for the Party will open at 7:15pm and the evening will kick-off at 7:45pm.
If you're a floorsinger and would like to play at the Party – floorspots will be handled in the Willows' usual way, on a "first come, first served" basis – or in this case, "first ticket sold, first served"! If you'd like to play a floorspot at the Party, please let us know when you buy your ticket(s) and we'll add your name to the list.
Hope we'll have the pleasure of welcoming you all to this exciting evening!
---
Sunday 29th September | July & August roundup!
It has been a very long time indeed since we last updated the front page of this site, for which we can't apologise enough. This year has been a very busy one for all of us here at Willows HQ, with lots of unexpected happenings (such as Chris's Mum's shoulder surgery) thrown in for good measure!
However, despite all of this the Willows is still bowling along nicely and we've had some brilliant evenings over the past few months! Below are some YouTube videos taken during July and August by way of showcasing just how great those months were – we'll be bringing you a September roundup hopefully in a week or so's time.
We opened up July with another Showcase Special evening featuring two local duos, DAVIS & GRIFFIITHS (who used the evening to launch their new debut album) and JO & GRAHAM. Here are two videos taken on the night, one from each of the two Showcase acts – Davis & Griffiths performing the bluegrass song "Walking Shoes", and Jo & Graham singing Steve Tilston's song "The Road When I Was Young":
We had an absolutely barnstorming evening on 24th July when our special guests were the band SUPERSTRINGS – a masterclass of musicianship and just a really special night. Here are two videos from their performance – thanks to John Robbins for doing the filming for this one:
Our Come All Ye – Open Stage Nights always provide a great platform for local talent, and it's surprising how many singers, musicians and bands have made their live debuts at one of them. At the Come All Ye at the end of July a brand new band known as DEE played a couple of songs, and here's one of them – "Deep Blue Eyes", written by the band's bass player Chris Denman:
We kicked off August with another visit from our great friends WOOD WIRE & WORDS, who delivered a characteristically brilliant evening of acoustic Americana and bluegrass – here's a video from their performance:
We had another great Showcase Special evening in August, during the week of the Arundel Festival. The two artists stepping into the spotlight for this evening were superb local band BANG ON THE EAR and family band THE REGESTERS – both bands delivered great performances, as can be evidenced from these two videos:
There's loads more great stuff coming up at the Willows between now and the end of the year – check out our What's On page for more info!
Hope to see you again soon!
NEWS ARCHIVES:
April – August 2013
December 2012 – March 2013
August – November 2012
June – July 2012
April – May 2012
February – March 2012
November 2011 – January 2012
September – October 2011
July – August 2011
May – June 2011
March – April 2011
January – February 2011
October – December 2010

About Us What's On Directions Newsletter Gallery FAQs Contact Us Links